<! PHOTO TABLE>
<! EDIT TITLE FOR PHOTO> Smoking Policy in Effect
<! EDIT PHOTO NAME - BE SURE TO LOAD A 640X480 PHOTO TO THE HISTORY SUBDIRECTORY>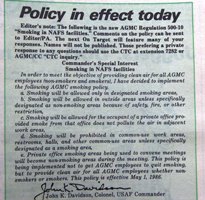 <! EDIT CAPTION> The above is copied from a May 1986 edition of On Target.
<! EDIT NAME OF MONTH>
May 2006
It's been more than 10 years ago that Newark AFB learned of its pending closure and more than 40 years since the base's newspaper, On Target, was first published. From a complete collection of On Target newspapers, the Port Authority's Bill Wright created a month-by-month look at The Base through the years.
<! EDIT THIS ENTIRE SECTION FOR EACH MONTH> One Year Ago - May 2005
10-Year Anniversary Celebrated. The Heath-Newark-Licking County Port Authority celebrated its 10th birthday with a cake cutting ceremony on the patio. Long-time base advocate Wally Horton cut the cake aided by Licking County Commissioner Marcia Phelps, Heath Mayor Dan Dupps, and Newark Mayor Bruce Bain. The Port Authority was created through a joint agreement of the Licking County Commissioners and the cities of Heath and Newark which was signed on May 18, 1995.


10 Years Ago - May 1996
Contractors moved ahead with hiring. With few exceptions, the transition of the Aerospace Guidance and Metrology Center to Rockwell Guidance Repair Center was a smooth one. As of the end of April, 81 AGMC employees had been moved over to the Rockwell workforce. A total of 685 offers had been extended since January, with 517 AGMC people agreeing to join the RGRC Team.


15 Years Ago - May 1991
Years of challenges help create focus. After three years of commanding the base, Col. Daniel B. Flournoy saw three major pluses. First, the center had executed its mission in a remarkable fashion. Our customers were extremely well supported. Second, the major portion of equipment updates at PMEL and the Type I lab was completed. Lastly, our workforce was able to handle new workloads while keeping up with the older


20 Years Ago - May 1986
Smoking policy aim clean air environment. A new on-base smoking policy went into effect on May 1, 1986. The policy authorizes smoking in specific places. The goal of the policy was to provide a clean environment for the Newark AFS employees. This policy still allowed smoking inside the buildings. With the passing of the Heath ban in 2005, there is no smoking in buildings on the base and it is restricted to certain outside areas also.


25 Years Ago - May 1981
Work Bus Run Ends May 28th. The Land of Legend Transit Co., owned and operated by Jerry Jones of maintenance, will make its last run carrying passengers for work at Newark AFS on May 28th. The bus carried 4,583 since it began operation last October.


30 Years Ago - May 1976
Road to be renamed honoring Capt. Lamp. Capt. Arnold W. Lamp Jr., a Licking Countian who was killed during the Vietnam War, was honored when the primary east-west NAFS was renamed Lamp Drive. Born in Harbor Hills, Capt. Lamp graduated from Lakewood High School in 1960 and Otterbein College in 1964.


35 Years Ago - May 1971
Data Automation Center Opens. Wallace Horton's last official act at AGMC was the cutting of the ribbon opening Comptroller's new Data Automation Center adjoining Bldg. 4. The new facility will house all of Comptroller's data automation equipment in one location. Mr. Horton would again return to the base in 1993 to head up the Reuse Commission. Later he would become the Port Authority's first executive director and return again as a Port Authority board member.


40 Years Ago - May 1966
6,000 At Open House! One' "star" of the show was an Atlas missile. The Atlas, towering at over 90 feet, served as a landmark for visitors streaming to the open house. The Atlas was the first to be repaired here in the fall of 1962.






---
Previous Issues