<! PHOTO TABLE>
<! EDIT TITLE FOR PHOTO> BIKERS ON PATROL...
<! EDIT PHOTO NAME - BE SURE TO LOAD A 640X480 PHOTO TO THE HISTORY SUBDIRECTORY>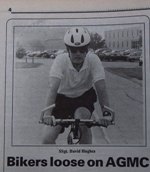 <! EDIT CAPTION> The above is copied from a August 1995 edition of On Target.
<! EDIT NAME OF MONTH>
August 2005
It's been more than 10 years ago that Newark AFB learned of its pending closure and more than 40 years since the base's newspaper, On Target, was first published. From a complete collection of On Target newspapers, the Port Authority's Bill Wright created a month-by-month look at The Base through the years.
<! EDIT THIS ENTIRE SECTION FOR EACH MONTH> 10 Years Ago - August 1995
AGMC sees bicycle patrol. The Security Police Directorate selected eight members of the organization to be trained in bicycle patrol. They were trained on two recently purchased mountain bikes.


15 Years Ago - August 1990
AGMC provided support to U.S. forces deploying to the Middle East for operation Desert Shield. FASTCAL, a deployable calibration laboratory, was an AGMC initiative that played a role in the Middle East. The first of the production FASTCALs, which could be flown anywhere in the world, was delivered to the Air Force in July.


20 Years Ago - August 1985
"In With the New" The most important element of the AGMC's comprehensive information systems modernization plan "reported for duty". The IBM 4381 central processing unit replaced the Magnuson M80/43 on which the center had depended for two years. The new computer's RAM was 16MB and storage devices totaled 2.5GB. Look how far we have gone in 20 years.


25 Years Ago - August 1980
"Electro Mail" An electronic mail net work connected AGMC with the mail rooms of Headquarters Air Force Logistics Command, Air Force Acquisition Logistics Division and the five air logistics centers. A test of the system saw material "faxed" from here to McClellen AFB took half an hour to be transmitted and received.


30 Years Ago - August 1975
Meritorious Award AGMC Commander Col. William Bush presented the Air Force Meritorious Civilian Service Award to Robert Darling, deputy director of maintenance. The award is the highest AFLC can present to a civilian employee.


35 Years Ago - August 1970
Congressman John M. Ashbrook met with summer aids here at NAFS. He told the aids that he was glad to see them take advantage of the opportunity of the summer program and that the nation's youth needed to learn the value of work.


Wouldn't It Be Nice? August 1970
Ad for Arro Discount store shows that you could buy 6/ 12oz. bottles of coke for 39 cents and full fitted sheets for $1.22.


40 Years Ago - August 1965
Newark Air Force Station came to the rescue when Travis Air Force Base was unable to calibrate aircraft altimeters with certified accuracy. The base's radio altimeters are redlined and aircraft restricted from over seas causing a potential support problem to U.S. operations in Vietnam. The instrument is brought here to be certified.






---
Previous Issues
March 2005
Future Issues
Coming Soon: <!a href="september2005.shtml">September 2005

Make An Inquiry to Webmaster Bill Wright
Have a question or comment about this review of history? Contact Bill.