<! PHOTO TABLE>
<! EDIT TITLE FOR PHOTO> HORTON WINS HIGHEST AWARD...
<! EDIT PHOTO NAME - BE SURE TO LOAD A 640X480 PHOTO TO THE HISTORY SUBDIRECTORY>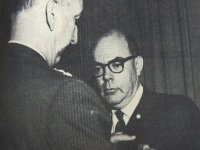 <! EDIT CAPTION> The above is copied from a January 1966 edition of On Target.
<! EDIT NAME OF MONTH>
January 2006
It's been more than 10 years ago that Newark AFB learned of its pending closure and more than 40 years since the base's newspaper, On Target, was first published. From a complete collection of On Target newspapers, the Port Authority's Bill Wright created a month-by-month look at The Base through the years.
<! EDIT THIS ENTIRE SECTION FOR EACH MONTH> One Year Ago - January 2005
Congressman Tiberi visits. Congressman Pat Tiberi accepted an invitation from the Port Authority to tour The Base and get acquainted with the people and work of the tenants here. The Congressman was updated on the status of the government contracts in place among the COATC tenants as well as future plans. Tiberi's 12th District is home for more than 40% of the on-Base personnel.


10 Years Ago - January 1996
Port Authority moves offices to Building 2. With the contractor selection for the workloads completed, the Port Authority moved to office space in the basement of Building 2. Plans called for the Port Authority to move to the Pass and Identification building at a later time. That time became the Fall of 2001. As of January 2006, the building now holds all seven Port Authority employees.


15 Years Ago - January 1991
Newark Active in Operation Desert Storm. With an increase in flying hours, due to Desert Storm, the Directorate of Maintenance here saw several workloads surge in support of aircraft being utilized in the Middle East. Over 1,000 items were produced in support of Desert Storm.


20 Years Ago - January 1986
Long Journey's Nothing new to AGMC. Traveling 16,000 miles round trip to check or install a piece of equipment and to instruct someone on its use is a duty that Frank Lazzaro and William Brown performed. They spent two weeks at Kadena AB in Okinawa, helping install a laser power meter calibration system. The system was one of two in existence, with the other being here at AGMC.


25 Years Ago - January 1981
General Visits AGMC to Present Maintenance Effectiveness Award. Lt. General Richard E. Merkling told the 300 people assembled for the ceremony that AGMC is the "top maintenance activity in AFLC for 1980" and noted that this is not the first time AGMC has won it, having won previously in 1972.


30 Years Ago - January 1976
First Navy DMINS Shipped. Another significant achievement in AGMC history occurred when work on the first dual miniature inertial navigation system (DMINS) for the Navy was completed and the unit shipped to the field.


35 Years Ago - January 1971
AFLC Workers, Systems Support Apollo 14 Mission. AGMC personnel supported the Apollo shots in a number of ways; chiefly through providing precise measurement standards necessary to activities involved in direct support.


January 1971, Ad of Note:
Lease a 1965 Mustang for $59.00 a month at Dave Smith Ford.


40 Years Ago - January 1966
Air Force's Highest Award. Wallace Horton received the Exceptional Civilian Service Award. The award, the highest the Air Force can give a civilian, was given in recognition of exceptional performance from May 1962 to May 1965. The award cited Horton's Technical knowledge, astute foresight, and ability to apply advanced management techniques which greatly contributed to the revitalization of the calibration system to meet missile and electronics requirements of the Air Force. Horton was instrumental in establishing the Newark AFS.






---
Previous Issues