<! PHOTO TABLE>
<! EDIT TITLE FOR PHOTO> ATHLETE RECEIVES GOLD MEDAL
<! EDIT PHOTO NAME - BE SURE TO LOAD A 640X480 PHOTO TO THE HISTORY SUBDIRECTORY>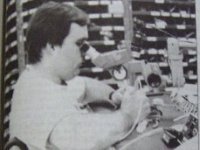 <! EDIT CAPTION> The above is copied from a June 1990 edition of On Target.
<! EDIT NAME OF MONTH>
June 2005
It's been more than 10 years ago that Newark AFB learned of its pending closure and more than 40 years since the base's newspaper, On Target, was first published. From a complete collection of On Target newspapers, the Port Authority's Bill Wright created a month-by-month look at The Base through the years.
<! EDIT THIS ENTIRE SECTION FOR EACH MONTH> 10 Years Ago - June 1995
AGMC wins value engineering awards. Newark Air Force Base was named the recipient of the Fiscal Year 1994 Value Engineering Awards by the Department of Defense. The awards went to: AGMC for the Outstanding Value Engineering Field Organization, the Closed Loop Failure Analysis Team; and Jerry Osborn Outstanding Value Engineering Professional.


15 Years Ago - June 1990
Wheelchair athlete earns a gold medal. Dave Anders showed he had the "right stuff" when he competed in the Ohio Wheelchair Games. He brought home a gold medal for weight lifting and shot put. He also won silver medals in the discus throw and javelin throw. He worked as an electronics worker in the LN-31 area.


20 Years Ago - June 1985
Maj. William Kruger, on special assignment to Newark Air Force Station, became a Lieutenant Colonel. He was commissioned in 1964 drawing his first assignment at Gunter AFB Ala.


25 Years Ago - June 1980
A change of Command takes Place. AGMC Commander Col. David W. Huff retired after 30 years of service and turned over command of the center to Col. James A. Tillotson who had been service commander here since November 1977.


30 Years Ago - June 1975
Col. William H. Bush prepares to assume command of the Areospace Guidance and Metrology Center, succeeding the retiring Col. A.R. Neville Jr. The Fort Wayne, Ind.Native was involved in the first air dropped hydrogen bomb tests at Eniwetok.


35 Years Ago - June 1970
MARS Tower Installed Atop New 90-Foot Tower. The tower and antenna was for the MARS (Military Affiliate Radio System) station and replaced the damaged equipment installed on the top of bldg T1.With the new tower and system the MARS station had greater capabilities and more reliable radio contacts on transmission as well as reception modes. It was feasible to acknowledge worldwide capabilities including direct contact with Vietnam.


40 Years Ago - June 1965
Another First. SSGT. John F. Weitzel of Admin services became the first military to re-enlist and be sworn in at Newark AFS. Weitzel's military career began with the Army in 1946.


Do You Remember June 1965? June 1965
Psycho, Girl Happy (with Elvis), and Walt Disney's Cinderella were being shown at the Midland Auditorium.






---
Previous Issues