<! PHOTO TABLE>
<! EDIT TITLE FOR PHOTO> Flynn Selected to Head Software Support Center
<! EDIT PHOTO NAME - BE SURE TO LOAD A 640X480 PHOTO TO THE HISTORY SUBDIRECTORY>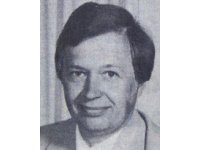 <! EDIT CAPTION> The above is copied from a April 1981 edition of On Target.
<! EDIT NAME OF MONTH>
April 2006
It's been more than 10 years ago that Newark AFB learned of its pending closure and more than 40 years since the base's newspaper, On Target, was first published. From a complete collection of On Target newspapers, the Port Authority's Bill Wright created a month-by-month look at The Base through the years.
<! EDIT THIS ENTIRE SECTION FOR EACH MONTH> One Year Ago - April 2005
Project Cam Unveiled. Using mostly in-house resources, the Port Authority developed and deployed a new wireless camera for monitoring construction projects. The camera, which is visible and controllable via the Internet 24/7/365, is connected to the Port Authority's wireless internet network and is powered by solar panels. The camera's first deployment is on the Kaiser Drive Extension project where it makes construction monitoring easier, but also lends itself to information sharing with customers and nearby citizens.


10 Years Ago - April 1996
Port Authority close to signing first lease. A lease agreement between the Port Authority and Rockwell is close to being signed. Wyle Labs is set to sub lease some of the work area from Rockwell.


15 Years Ago - April 1991
Era ends with deactivation ceremony. An era ended when the 2803 Air Base Group ceased to exist. At the ceremony, Lt. Col. Robert M. Howe relinquished his command and turned the flag over to Aerospace Guidance and Metrology Center Commander Daniel B. Flournoy. This action closed the unit forever. The 2803 ABG was established in February 1973 solely to provide support services at the base.


20 Years Ago - April 1986
Newark AFS employees get AFA honors. Recipients of the awards were: Maj. Stephen Hoar, Outstanding Military Person of the Year; Sergei Vladimir Jackson, Robert L. Staats Memorial Award; Fay Hoskins, Outstanding Manager of the Year; SMSgt. Larry Altman, the Col. Joseph M. Hess Memorial Outstanding Reserve or National Guard of the Year; William Jones, Employee of the Year Award; and Stephen Plummer, the Joseph R. Sinsabaugh Memorial Award.


25 Years Ago - April 1981
Flynn Selected To Head Software Support Center. Frank Flynn, former chief of the Metrology Support Office, was selected as the new chief of Maintenance's Automated Equipment Engineering Branch. Mr. Flynn is now a member of the Port Authority Board of Directors.


30 Years Ago - April 1976
Ribbon-Cutting Opens Warehouse. The ribbon-cutting ceremonies attended by 300 NAFS personnel formally opened Supply's new warehouse. Dimensions of the warehouse are 362 x 252 feet. The new building permitted consolidation of all storage on the installation and eliminated the need for leased off base facilities.


35 Years Ago - April 1971
Space Shuttle Study Team Makes Orientation Visit. AGMC personnel and members of a study team on the government's proposed inter-agency "space shuttle" transportation system exchanged information here for familiarization and planning purposes. The McDonnell Douglas team described their concept booster and orbiting vehicles, both of which could be returned to earth for reuse and both using inertial systems for guidance. The team gathered design and maintenance information on inertial systems during their visit for use in the study.


40 Years Ago - April 1966
F4C Work Center Completes First Year. This month marked the completion of one year of production for the F4C Platform Work Center. 216 serviceable platform were shipped during the year. Upcoming quarterly commitments of 50 a month represents a major portion of the F4C support for the Air Force.






---
Previous Issues