<! PHOTO TABLE>
<! EDIT TITLE FOR PHOTO> NAFS PARADE FLOAT...
<! EDIT PHOTO NAME - BE SURE TO LOAD A 640X480 PHOTO TO THE HISTORY SUBDIRECTORY>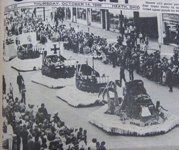 <! EDIT CAPTION> The above is copied from an October 1965 edition of On Target.
<! EDIT NAME OF MONTH>
October 2005
It's been more than 10 years ago that Newark AFB learned of its pending closure and more than 40 years since the base's newspaper, On Target, was first published. From a complete collection of On Target newspapers, the Port Authority's Bill Wright created a month-by-month look at The Base through the years.
<! EDIT THIS ENTIRE SECTION FOR EACH MONTH> 10 Years Ago - October 1995
Ex-POW Addresses AGMC Workforce. Edward Hubbard, a Vietnam POW that was held for six and half years, spoke to an audience of Newark Air Force Base employees. He described to the audience his cell and day-to-day life of a POW. He challenged AGMC employees to look at the base closure as a beginning.


15 Years Ago - October 1990
Construction provided improved azimuth reference area at Post 3. The construction at Post 3 provided an improved azimuth reference for a weapon system workload requirement. The existing azimuth reference from the north end of the building did not satisfy the weapon system requirement.


20 Years Ago - October 1985
Metrology Leader Earns AFA Honors. A lab leader in Metrology received the Citation of Honor from the Air Force Association for his insight into complex and technical measurement and outstanding work with standards at the AGMC. Don Murphy received his honor in Washington at the national AFA convention. Mr. Murphy developed an amplitude modulation standard which is used to calibrate instrument landing systems in all Air Force systems.


25 Years Ago - October 1980
Newark-NAFS Bus Service to Make First Run. Jerry Jones of maintenance's missile product division announced that his long-planned bus service from Newark-Heath area to NAFS would begin this week. The route ran from Hart's Big Bear on 21st and made several stops along 21st and continued on to the Southgate area and on


30 Years Ago - October 1975
Tops in Blue Perform for 950 People at the NAFS Picnic. There was no doubt that "Tops in Blue" was the station's biggest event of the year. Most people found it hard to believe that the performers were all blue-suit amateurs.


35 Years Ago - October 1970
Number 4,000! John Srnec's blood donation made the total donations from NAFS since February 1967 4,000. The installation began here in February 1967. In the time since it began, NAFS blood donation accounted for 39% of blood donations in the county.


40 Years Ago - October 1965
Third Straight Air Force Win Retires Trophy. NAFS gained permanent possession of the industrial float trophy by taking the top spot in the Licking County United Appeal Parade for the third consecutive year. The five float display was based on Columbus Day and had a float for each, the Nina, Pinta, and the Santa Maria. Another float containing the West Indies had a volcano that actually caught the float on fire during the parade.






---
Previous Issues