<! PHOTO TABLE>
<! EDIT TITLE FOR PHOTO> Skufca Selected from DOD Competition...
<! EDIT PHOTO NAME - BE SURE TO LOAD A 640X480 PHOTO TO THE HISTORY SUBDIRECTORY>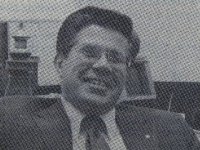 <! EDIT CAPTION> The above is copied from a February 1986 edition of On Target.
<! EDIT NAME OF MONTH>
February 2006
It's been more than 10 years ago that Newark AFB learned of its pending closure and more than 40 years since the base's newspaper, On Target, was first published. From a complete collection of On Target newspapers, the Port Authority's Bill Wright created a month-by-month look at The Base through the years.
<! EDIT THIS ENTIRE SECTION FOR EACH MONTH> One Year Ago - February 2005
Groundhog Breakfast. Boeing, Bionetics, BAE Systems, and the Port Authority jointly served as sponsors of the Newark & Licking County Chamber of Commerce's 49th Annual Groundhog Day Breakfast. The sponsorship was fulfilled with a 10-minute presentation titled The Base: It's History. It's Impact. It's Future. and viewed by over 500 members of the local business community.


10 Years Ago - February 1996
Commander hosted an employee call-in show. Newark Air Force Base Commander Joseph Renaud addressed the AGMC workforce via a live call-in show on the All-Base Network. After his opening remarks, the commander commented on the professionalism of the contractors during the transition. Both Rockwell and Wyle Labs had representatives present during the call-in show.


15 Years Ago - February 1991
RIF Notices are Delivered. Supervisors at Newark AFB Delivered Reduction-In-Force notices to base employees. Some 431 permanent workers were notified that they will no longer employed by the base after April. The number of layoffs was set to allow the base to reach its mandated strength figure of 1,866 employees by the end of the fiscal year.


20 Years Ago - February 1986
Skufca Selected from DOD Competition. After a worldwide competition through all services, Anthony Skufca was named deputy director of the Directorate of Metrology at AGMC. Mr. Skufca had seen much diversity here at Newark AFS in his 23 years of service. Right out of college, Mr. Skufca came here to work in Metrology.


25 Years Ago - February 1981
AGMC Wins USAF Maintenance Award. The Aerospace Guidance and Metrology Center was named the best depot production maintenance activity in the entire U.S. Air Force. AGMC earned the Air Force Depot Maintenance Effectiveness Award recognizing the organization demonstrating the most effective management of resources and promoting increased readiness of operation forces.


30 Years Ago - February 1976
Time Capsule Ready. NAFS time capsule was built and ready for burying, though it still needed its contents. The capsule was built from scrap by employees in the missile systems preparations area. The capsule, buried in 1976, was uncovered and opened do to changes in the west side parking lot in 2004. This capsule and many of its contents are now on display at The Works, in downtown Newark.


35 Years Ago - February 1971
Meritorious Service Award James R. Callaghan AGMC systems manager for Minuteman inertial guidance systems in the Directorate of Maintenance was awarded the Meritorious Civilian Service Award. The award, the highest that AFLC can bestow on a civilian, was given for significant contributions "to timely activation of the Minuteman III specialized repair activity.


February 1971, Time for Fishing?:
In 1971 a fishing license cost $4.00. Today a fishing license will cost you $20.00.


40 Years Ago - February 1966
Colonel Lawton to Accept New Position. Colonel Thomas Lawton, Jr. commander of Newark Air Force Station since the installation, was going to be reassigned it was announced. His expected new assignment was to be to command the Procurement Region for the Far East with headquarters in Tokyo.






---
Previous Issues