<! PHOTO TABLE>
<! EDIT TITLE FOR PHOTO> B-ROOM RECEIVES AWARD
<! EDIT PHOTO NAME - BE SURE TO LOAD A 640X480 PHOTO TO THE HISTORY SUBDIRECTORY>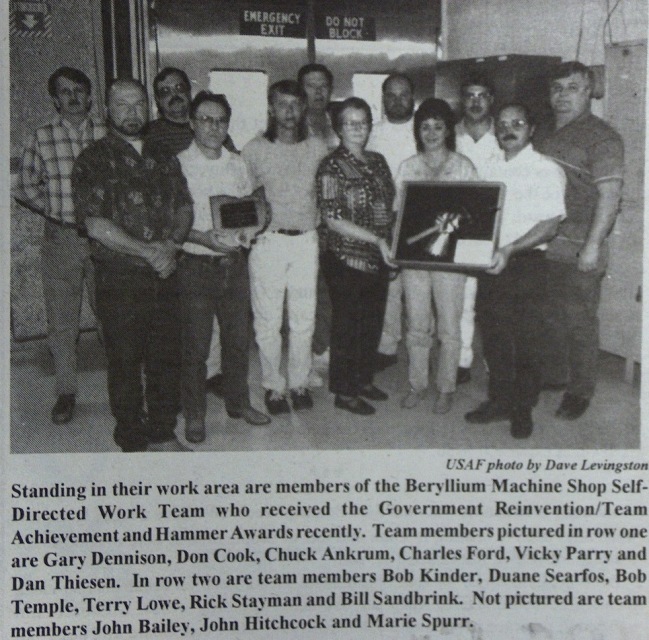 <! EDIT CAPTION> The above is copied from the May 18, 1995 edition of On Target.
<! EDIT NAME OF MONTH>
May 2005
It's been more than 10 years ago that Newark AFB learned of its pending closure and more than 40 years since the base's newspaper, On Target, was first published. From a complete collection of On Target newspapers, the Port Authority's Bill Wright created a month-by-month look at The Base through the years.
<! EDIT THIS ENTIRE SECTION FOR EACH MONTH> 10 Years Ago - May 1995
B-Room self directed work team was awarded the Government Reinvention/Team Achievement Award by the Federal Executive Association of Columbus and Central Ohio. The Beryllium machine shop function provides AGMC with machine shop support capability to machine, debur, and measure beryllium metal parts used during the repair and calibration processes for missile, aircraft, and shipboard guidance systems.


15 Years Ago - May 1990
NARFE Service Assistance Center opened. It was the 35th center of its kind devoted to the needs of the Federal retiree.


20 Years Ago - May 1985
Newark Area Chamber of Commerce Sponsored a military recognition luncheon. The award for outstanding officer of the year went to Maj. Stephen M. Hoar. Major Hoar served as Chief of Supply and Transportation. Major Hoar also served a year on the Port Authority Board of Directors. Major Hoar passed away in 2002.


25 Years Ago - May 1980
The first ARN-101 was completed for F-4 MOD. The ARN-101 navigation system was integrated with the worldwide Loran system for accurate positioning and replaced the LN-12 system in use on the F-4 since the mid-sixties.


30 Years Ago - May 1975
Groundbreaking took place for the new NAFS warehouse. The warehouse-more properly termed a "logistics material processing and storage facility" was built by PAYT Construction Co. and cost $1,426,000 for the 90,000 sq ft building. Congressman John Ashbrook was one of many dignitaries to make a few remarks.


35 Years Ago - May 1970
AFLC Commanders met at NAFS. General Jack G. Merril, AFLC Commander, headed a group of more than 30 high ranking officials that spent three days at the quarterly AFLC Commanders conference here. This was the 1st time AGMC had ever hosted such an event.


Do You Remember the Days? May 1970
A two bedroom home on Taylor Ave. was selling for $17,500.


40 Years Ago - May 1965
F-111 work was assigned to NAFS. NAFS was designated as the single-point activity for organic repair of the F-111 inertial platform. The aircraft could operate at twice the speed of sound.






---
Previous Issues