<! PHOTO TABLE>
<! EDIT TITLE FOR PHOTO> SANTA RATED NO.1...
<! EDIT PHOTO NAME - BE SURE TO LOAD A 640X480 PHOTO TO THE HISTORY SUBDIRECTORY>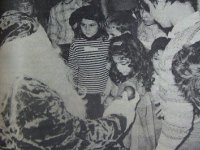 <! EDIT CAPTION> The above is copied from an December 1970 edition of On Target.
<! EDIT NAME OF MONTH>
December 2005
It's been more than 10 years ago that Newark AFB learned of its pending closure and more than 40 years since the base's newspaper, On Target, was first published. From a complete collection of On Target newspapers, the Port Authority's Bill Wright created a month-by-month look at The Base through the years.
<! EDIT THIS ENTIRE SECTION FOR EACH MONTH> 10 Years Ago - December 1995
Rockwell International is awarded a contract for depot-level maintenance and repair activities at the base while Wyle Laboratories is given a contract to perform selected metrology and calibration activities.


10 Years Ago - December 1990
Employees at AFLC bases had a great year in support of the Combined Federal Campaign. Newark AFB raised $141,202.92.


20 Years Ago - December 1985
Suggestions tops in Air Force. The AGMC suggesters submitted 1,021suggestions in fiscal 1985 to lead the Air Force in participation rates with 39.1 percent. AGMC also led the Air Force with an adoption rate of 12.7 percent. AGMC suggesters saved the Air Force $1,379,788 and received $47,796 in awards.


25 Years Ago - December 1980
The first periscopic sextant made serviceable at AGMC is the new workload which will require 25 direct worker personnel. AGMC would do 40 percent of the sextant workload done by Texas Aerospace Services Inc.


30 Years Ago - December 1975
Engineer Robert Staats died two days before he was to receive and Outstanding Engineer award. Mr. Staats came to Newark in 1962 and served in engineering positions on the Titan system and as missile test equipment lead engineer.


December 1970, Groceries Anyone?
1970 ad shows six loaves of bread for $1 and a ½ gallon of milk for 45 cents.


35 Years Ago - December 1970
Santa gets No. 1 rating at NAFS Christmas party. Santa played to a packed house when NAFS held its sixth annual Christmas party. More than 1,400 children attended, exceeding the previous years attendance by a couple of hundred. 60 plus volunteers worked weeks in advance to prepare for the party.


40 Years Ago - December 1965
Newark AFS NCO and Officers Club get its first two members. Col. Thomas Lawton Jr. was the first associate member and CMSgt. John Healey was the first regular member of the new club. Monthly dues were $2 a month.






---
Previous Issues