<! PHOTO TABLE>
<! EDIT TITLE FOR PHOTO> NAFS ACCESS ROAD...
<! EDIT PHOTO NAME - BE SURE TO LOAD A 640X480 PHOTO TO THE HISTORY SUBDIRECTORY>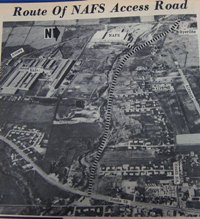 <! EDIT CAPTION> The above is copied from an November 1965 edition of On Target.
<! EDIT NAME OF MONTH>
November 2005
It's been more than 10 years ago that Newark AFB learned of its pending closure and more than 40 years since the base's newspaper, On Target, was first published. From a complete collection of On Target newspapers, the Port Authority's Bill Wright created a month-by-month look at The Base through the years.
<! EDIT THIS ENTIRE SECTION FOR EACH MONTH> 10 Years Ago - November 1995
Newark AFB takes 'innovative' honor. Newark AFB employees were recognized nationally for creativity in problem-solving. The base was just one of 15 governmental programs honored with a 1995 Innovations in American Government Award.


20 Years Ago - November 1985
The Ring Laser Gyro, an Inertial Navigation Unit, is a high tech system. It is in essence the spinning wheel of a traditional gyro supplanted by two contrarotating laser beams. The new workload created work for 40 people and was approved for 66,000 hours of work.


25 Years Ago - November 1980
Jerry Jones reports his NAFS bus service is still going strong. There was a total of 761 riders during the second and third week of operation. It showed a 35.2% increase over the first week of service.


30 Years Ago - November 1975
Center Attains Bicentennial Recognition. AGMC Commander Col. William H. Bush received a congratulatory message from Sen. John Glenn. Sen. Glenn says "you may take pride in attaining selection and I commend you for your patriotism and participation in this national program".


November 1975, Glad Those Days are Gone?
Multi-color plush shag carpet, $4.99 a sq. yd.


35 Years Ago - November 1970
AGMC's Highest Non-Com Retires After 30 Years. SMSgt. George T. Davis was awarded the AF Commendation Medal and retired from active duty in a formal ceremony in the NCO Open Mess. He was the first military man ever to retire at NAFS with thirty years or more service.


40 Years Ago - November 1965
Congress approves an additional $136,000 required to complete the access road from Ohio 79 to Newark Air Force Station. This road will later be known as Irving-Wick Drive






---
Previous Issues