<! PHOTO TABLE>
<! EDIT TITLE FOR PHOTO> Wingrove Receives Meritoriuos Service Medal
<! EDIT PHOTO NAME - BE SURE TO LOAD A 640X480 PHOTO TO THE HISTORY SUBDIRECTORY>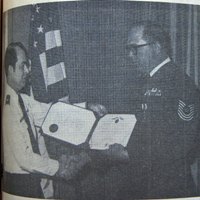 <! EDIT CAPTION> The above is copied from a March 1981 edition of On Target.
<! EDIT NAME OF MONTH>
March 2006
It's been more than 10 years ago that Newark AFB learned of its pending closure and more than 40 years since the base's newspaper, On Target, was first published. From a complete collection of On Target newspapers, the Port Authority's Bill Wright created a month-by-month look at The Base through the years.
<! EDIT THIS ENTIRE SECTION FOR EACH MONTH> One Year Ago - March 2005
Governor Taft Attends Groundbreaking. Ohio Governor Bob Taft visited the Central Ohio Aerospace and Technology Center and took part in a groundbreaking ceremony for The Boeing Company's new AWACS-ESM workload at Heath. Governor Taft's visit comes on the heels of the State of Ohio's very aggressive incentive package which helped attract Boeing's new investment in Heath. Over 50 business and public officials were on hand for the event.


15 Years Ago - March 1991
Col. Joseph Renaud is named as the new commander to the Aerospace Guidance and Metrology Center.


20 Years Ago - March 1986
Col. John Davidson announced his retirement after three years as base commander. Col. Lloyd Powell was named to assume the command.


25 Years Ago - March 1981
MSgt. David Wingrove of Metrology's Precision Measurement Equipment Laboratory Evaluation Branch (MLQ) was presented a Meritoriuos Service Medal (first oak leaf cluster) by AGMC Commander Col. James Tillotson for outstanding service as a PMEL evaluator.


30 Years Ago - March 1976
2000th Titan system was received, repaired and shipped out by AGMC. AGMC also produced its 100th KT-76 inertial measurement unit.


35 Years Ago - March 1971
Gen. Duffy Praises AGMC. Gen. Duffy, vice commander of the space and missile systems organization, praised AGMC in his speech for its accomplishments in the successful repair of the inertial guidance and navigation systems. He had doubts that a single facility could be built to handle maintenance on guidance systems, but AGMC proved him wrong.


March 1966, Ready for a Cookout?:
Super Duper ad shows ground beef for $.49 a pound.


40 Years Ago - March 1966
Newark AFS reaches a the milestone with production of the 500th Titan inertial guidance system from the repair line.






---
Previous Issues