<! PHOTO TABLE>
<! EDIT TITLE FOR PHOTO> IT'S OFFICIALLY OPEN
<! EDIT PHOTO NAME - BE SURE TO LOAD A 640X480 PHOTO TO THE HISTORY SUBDIRECTORY>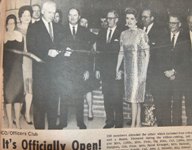 <! EDIT CAPTION> The above is copied from a December 1966 edition of On Target.
<! EDIT NAME OF MONTH>
December 2006
It's been more than 10 years ago that Newark AFB learned of its pending closure and more than 40 years since the base's newspaper, On Target, was first published. From a complete collection of On Target newspapers, the Port Authority's Bill Wright created a month-by-month look at The Base through the years.
<! EDIT THIS ENTIRE SECTION FOR EACH MONTH> One Year Ago - December 2005
Bond Issue Approved. The Port Authority approved a $10 million tax exempt bond issue on behalf of Licking Memorial Hospital. The bond proceeds will be used to purchase equipment for the benefit LMH's new Critical Care Pavilion in Newark. The Port Authority, up to this point, bragged issuing over $28 million in bonds since 2002.


15 Years Ago - December 1991
Early Christmas present. The Aerospace Guidance and Metrology Center was awarded the ring laser gyro inertial navigation unit workload. The award grants AGMC the repair responsibility for all Air Force RLG INU's.


20 Years Ago - December 1986
Major Hoar retires after a lifetime in service. He set a 20-year plan and managed to achieve his objectives, but it was time to hang up the uniform and pursue a new direction. Major Hoar received numerous awards and recognitions from the Air Force and the private sector during his time in the service. He later served as a member of the Port Authority Board of Directors. Hoar passed away in 2002.


25 Years Ago - December 1981
Col. Lange to be Next AGMC Commander. Col. Paul R. Lange of the Oklahoma City Air Logistics Center was named the next Commander of the AGMC upon the retirement of Col. Tillotson. Col. Lange was chief of Resources Management Division in Oklahoma City ALC's Directorate of Material Management.


30 Years Ago - December 1976
Propane Storage Installation Completed. Construction and installation of two propane storage tanks near the water tower was completed. The tanks provided for a 30-day supply (180,000 gallons) of propane as a substitute for natural gas. These tanks were removed in 1996 during the "transition" of the Base.


35 Years Ago - December 1971
5,000th Pint of Blood Donated. A routine blood donation by Thomas Clemmons became a significant event for NAFS, His was the 5,000th pint credited to NAFS since installation became a participating group in 1967.


40 Years Ago - December 1966
It's Officially Open! Col. Little and Col. Foxx officiated at a ribbon-cutting ceremony which officially opened the NCO/Officers club. Approximately 300 members attended the affair. The Port Authority plans investments in 2007 to reconfigure this space for another use.






---
Previous Issues