<! PHOTO TABLE>
<! EDIT TITLE FOR PHOTO> Peacekeeper Facility Opens
<! EDIT PHOTO NAME - BE SURE TO LOAD A 640X480 PHOTO TO THE HISTORY SUBDIRECTORY>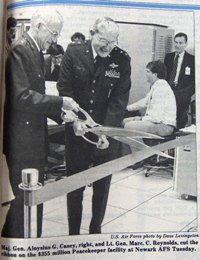 <! EDIT CAPTION> The above is copied from a September 1986 edition of On Target.
<! EDIT NAME OF MONTH>
September 2006
It's been more than 10 years ago that Newark AFB learned of its pending closure and more than 40 years since the base's newspaper, On Target, was first published. From a complete collection of On Target newspapers, the Port Authority's Bill Wright created a month-by-month look at The Base through the years.
<! EDIT THIS ENTIRE SECTION FOR EACH MONTH> One Year Ago - September 2005
Online Auction Thrives. A marquee that once greeted visitors to the former Newark Air Force Base for years was sold via online auction. The remnant of The Base was among the items posted at online auction house GovDeals.com through the Heath-Newark-Licking County Port Authority. GovDeals.com is the government equivalent of e-Bay. In the two years since moving to online auction sales, the Port Authority more than doubled the annual average revenue from auction sales.


15 Years Ago - September 1991
Four receive Leo Marquez awards. Capt. Gary G. Dameron; Outstanding Military Company Grade Missile Maintenance Manager, Dwight S. Bonifield; Outstanding Aircraft Maintenance Technician, Larry R. Nauman; Outstanding Missile Maintenance Technician, Jack Van Horn; Outstanding Missile Maintenance Manager.


20 Years Ago - September 1986
Dignitaries cut ribbon on Peacekeeper Facilities. Lt. Gen. Marc C. Reynolds, vice commander of Air Force Logistics Command was on hand for the ceremonies. Under construction since February 1985, the 36,000 square foot facility was completed in April. Test equipment began arriving in January of 1986 and the rest of the test equipment should take until August of 1987 to install. Official's state, "The assignment of this new workload reflects the quality of work performed at AGMC and the confidence Air Force officials have in the center's capabilities."


25 Years Ago - September 1981
AGMC Earns Air Force Outstanding Unit Award. The AGMC was selected to receive the Air Force Outstanding Unit Award for exceptionally meritorious service. AGMC previously won the award in 1975.


35 Years Ago - September 1971
Crowds watch AFLC Band. Leading the way for the United Appeal parade in downtown Newark was the Air Force Logistics Command Band. A crowd of 15,000 spectators lined the streets for the hour-long event held to kick off the county UA drive. The 45-member group presented a concert on the courthouse square later in the afternoon.


40 Years Ago - September 1966
Production milestone. Another milestone was reached when shops completed repair on the 3000th Minuteman inertial guidance system to pass through the production line since Minuteman operations began in the fall of 1962.


End of an Era
An ad in 1966 On Target for Walters Chevytown located in Hebron. In the ad it states that they have been in business for 40 years. This past July the location was closed, marking the first time in 80 years that a car dealership has not been at that location in Hebron.






---
Previous Issues