<! PHOTO TABLE>
<! EDIT TITLE FOR PHOTO> Presidential Award
<! EDIT PHOTO NAME - BE SURE TO LOAD A 640X480 PHOTO TO THE HISTORY SUBDIRECTORY>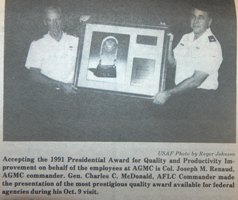 <! EDIT CAPTION> The above is copied from a October 1991 edition of On Target.
<! EDIT NAME OF MONTH>
October 2006
It's been more than 10 years ago that Newark AFB learned of its pending closure and more than 40 years since the base's newspaper, On Target, was first published. From a complete collection of On Target newspapers, the Port Authority's Bill Wright created a month-by-month look at The Base through the years.
<! EDIT THIS ENTIRE SECTION FOR EACH MONTH> One Year Ago - October 2005
U.S. Senator DeWine Tours Base. As part of a tour of defense-related companies in Licking County, U.S. Senator Mike DeWine toured The Base. His tour included a stop at the AWACS construction area with Boeing and DCMA officials and a briefing on the AFPSL by Bionetics and AFMETCAL officials. DeWine provided a brief interview with Base Radio before he departed, saying, "The future is bright here."


10 Years Ago - October 1996
Rural/ Metro names leaders. Rural/Metro took over fire protection duties at the Central Ohio Aerospace and Technology Center and named Richard Jahn as chief and Joel Root and Martin Drexilius as captains.


15 Years Ago - October 1991
Presidential Award. The 1991 Presidential Award for Quality and Productivity Improvement was accepted on behalf of the employees at AGMC by Col. Joseph Renaud, AGMC Commander. Gen Charles C. McDonald, AFLC Commander made the presentation of the most prestigious quality award available for federal agencies.


20 Years Ago - October 1986
Newark AFS employees earn three awards. Cecil Hopper won the managerial/supervisor award. Ed Daley won the federal employee of the year award in the Executive category. Ruth Harbaugh won the award in the Handicapped category; she is classified as being legally blind.


25 Years Ago - October 1981
Col. Tillotson announced his retirement. Col. Paul Lange was nominated to be the next AGMC Commander.


30 Years Ago - October 1976
AFA Awards Dinner Held. The Air Force Association held it first annual awards for professional excellence. The Robert L. Staats Award for Excellence in Engineering went to Buddy R. Bleichroth of Newark AFS, Supervisor of the Year to David S. Dernberger of Rockwell Corp., Newark, and the Employee of the year to Robert E. Saltzman NAFS.


35 Years Ago - October 1971
Service Engineering Hires First Woman in Pro Status. Miss Glenda Jones assumed the position of mathematician in the Automatic Test Equipment Division, Directorate of Service Engineering. She is the first woman in professional status to be employed in the directorate.


40 Years Ago - October 1966
Hail to the Queen! The winners of the Zero Defects Princess Competition are Queen Kay Wilkins of Support's security and law enforcement branch and first runner-up Marilyn Davis of Calibration's scientific services branch. Division princesses will help in publicizing and emphasizing ZD events within their organizations.






---
Previous Issues