<! PHOTO TABLE>
<! EDIT TITLE FOR PHOTO> Organizational Excellence Award
<! EDIT PHOTO NAME - BE SURE TO LOAD A 640X480 PHOTO TO THE HISTORY SUBDIRECTORY>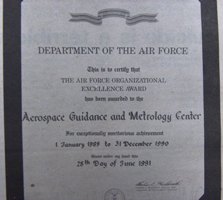 <! EDIT CAPTION> The above is copied from a August 1991 edition of On Target.
<! EDIT NAME OF MONTH>
August 2006
It's been more than 10 years ago that Newark AFB learned of its pending closure and more than 40 years since the base's newspaper, On Target, was first published. From a complete collection of On Target newspapers, the Port Authority's Bill Wright created a month-by-month look at The Base through the years.
<! EDIT THIS ENTIRE SECTION FOR EACH MONTH> One Year Ago - August 2005
Community Economic Development. The Licking County Chamber and AEP hosted a community economic development seminar at the Base Conference Center. The seminar was attended by 60 people including local elected officials and local businesses. The purpose of the course was to give a basic knowledge on what it takes to be successful in promoting development sites to prospective companies looking to develop in the area.


10 Years Ago - August 1996
Boeing to buy Rockwell's aerospace holdings. The Boeing Company bought the bulk of Rockwell International Corp.'s aerospace and defense holdings, including the Heath operations at the base. Rockwell was well known in the 1970's for its space launch and weapons business.


15 Years Ago - August 1991
AGMC Receives Air Force Award. Distinguished service as a unit has earned the AGMC the Air Force Organizational Excellence Award. The award was presented at an official ceremony this month by Lt. Gen. Charles J. Searock. He stated the excellence in technological leadership through farsighted innovation in combat mission support as one of the key factors in winning the award.


20 Years Ago - August 1986
Barger Takes Timely Job. Andy Barger, of Maintenance, took over responsibility for maintaining and setting the four clocks atop the Licking County Courthouse. The clocks require lubrication every three months and time changes for Daylight Savings Time.


25 Years Ago - August 1981
AGMC holds a reception honoring the past Commanders of the base. AGMC past Commanders Col. Burkhart, Neville Jr., Bush, and Huff all attended the event held in the COM.


35 Years Ago - August 1971
Col. Massie Reassigned. Col. Massie, AGMC vice commander, was reassigned to command the Military Aircraft Storage and Disposition Center at Davis-Monthan AFB, Arizona. He had been vice commander since September 1968.


40 Years Ago - August 1966
Ink Spots at NAFS. Hundreds of patrons jammed the NCO-Officer's Club for a one night appearance by the famed Ink Spots. The group presented a varied program including their popular, "If I Didn't Care" for the audience.






---
Previous Issues