<! PHOTO TABLE>
<! EDIT TITLE FOR PHOTO> Air Force Maintenance Award
<! EDIT PHOTO NAME - BE SURE TO LOAD A 640X480 PHOTO TO THE HISTORY SUBDIRECTORY>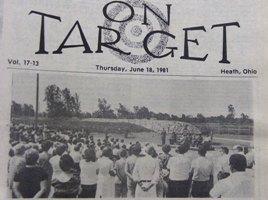 <! EDIT CAPTION> The above is copied from a June 1981 edition of On Target.
<! EDIT NAME OF MONTH>
June 2006
It's been more than 10 years ago that Newark AFB learned of its pending closure and more than 40 years since the base's newspaper, On Target, was first published. From a complete collection of On Target newspapers, the Port Authority's Bill Wright created a month-by-month look at The Base through the years.
<! EDIT THIS ENTIRE SECTION FOR EACH MONTH> One Year Ago - June 2005
Wally Horton Given National Award. Wally Horton was recognized with a national award for his leadership to the community as champion of the Newark Air Force Base privatization. Horton was named recipient of the 2005 Community Leadership Award by NAID/An Association of Defense Communities. At the Denver award ceremony, the award program said, "Is there life after base closure? Ask Wally Horton."


10 Years Ago - June 1996
Transition Enters Last 100 days. The base closure ceremony was scheduled for Sept. 17 and the official closure date is Oct. 1. According to the commander, the next few weeks would be a trying time for the workforce. "It will be a difficult time for us, in that our mission workloads will have been transitioned," said AGMC commander Col. Joseph M. Renaud.


15 Years Ago - June 1991
Command passes to Col. Renaud. Col. Daniel Flournoy, commander of AGMC since 1988 relinquished command to Col. Joseph Renaud.


20 Years Ago - June 1986
Colonel Lloyd Powell to take Charge. Col. Powell will assume command of the AGMC from Commander Col. John Davidson. Davidson retired immediately after relinquishing the command. He had severed as AGMC commander for three years. "The main asset of Newark AFS is the people. The people who possess such great skill and have so much experience," Davidson said.


25 Years Ago - June 1981
Hundreds Witness Presentation of Air Force Maintenance Award. Hundreds of AGMC employees, community leaders and visitors were on hand for the formal presentation of the Air Force Depot Maintenance Effectiveness Award to AGMC. There is only one such award given each year and it is presented to the best maintenance organization in the Air Force.


30 Years Ago - June 1976
First G300 Gyro Repaired. Major repair of the first G300 gyro was another significant achievement in AGMC history. The gyro is part of the LN15 platform used in the B-52 aircraft for alignment of the SRAM missile.


35 Years Ago - June 1971
Heath Swimming Pool Opens. The Heath Municipal Swimming Pool was formally opened in a ceremony which launched three days of free swimming and special events. Rates were $40 per family. This year the rate is $170 for residents of Heath and $200 for non residents. The pool is now known as the Heath City Water Park after undergoing major renovations in the winter of 2001-2002.


40 Years Ago - June 1966
AFLC Assigns New Commander. The Air Force Logistics Command has assigned Col. Edwin Little to succeed Col Thomas Lawton Jr. as commander of Newark AFS. Col Lawton's new assignment was in Tokyo as commander of the Air Procurement Region for the Far East.






---
Previous Issues