<! PHOTO TABLE>
<! EDIT TITLE FOR PHOTO> Outstanding Unit Award
<! EDIT PHOTO NAME - BE SURE TO LOAD A 640X480 PHOTO TO THE HISTORY SUBDIRECTORY>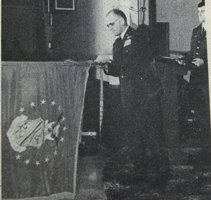 <! EDIT CAPTION> The above is copied from a November 1981 edition of On Target.
<! EDIT NAME OF MONTH>
November 2006
It's been more than 10 years ago that Newark AFB learned of its pending closure and more than 40 years since the base's newspaper, On Target, was first published. From a complete collection of On Target newspapers, the Port Authority's Bill Wright created a month-by-month look at The Base through the years.
<! EDIT THIS ENTIRE SECTION FOR EACH MONTH> One Year Ago - November 2005
Roadway Completed. With a new 4,200 foot roadway now drivable and an additional 120 acres now accessible, the project to bring the COATC South Campus its first major infrastructure improvements in over 50 years was completed. The Kaiser Drive and James Parkway North roadways were deeded over to the City of Heath in January 2006.


15 Years Ago - November 1991
Roberta Lesko earned Federal Employee of the Year honors. Nominated for the Disability Award Category, Lesko worked in the Transportation Division. Though legally blind, she is the only person providing administrative support to the 24 professionals in her division. She was the first person in Central Ohio to be fitted with a pair of micro telescopic lenses to allow her to read computer screens.


20 Years Ago - November 1986
Not Science fiction, mail for executives on computer systems. PROFS, Professional Office System, began with the executive staff at Newark AFS in late September. Executives now enter inter-office mail, their calendars, and schedules on the system. The system alerts the user a message is waiting. Look how second nature emailing is these days, it must have been really amazing to watch this PROFS unfold in 1986. See the 1986 On Target article.


25 Years Ago - November 1981
Gen. James P. Mullins visits AGMC. Gen Mullins used the occasion of his first visit to AGMC as AFLC commander to present the award of the Air Force Outstanding Unit Award to AGMC and supporting elements. The four-star general attached the AFOUA streamer to the AGMC organization flag during the ceremony.


30 Years Ago - November 1976
Milestone, Maintenance personnel with Col. Bush and Ray Bailey, celebrate production of the 2,000th Minuteman III and the 10,000th Minuteman II systems. MMIII production began here in June 1970 and MMII in November 1966.


35 Years Ago - November 1971
Milestone, Two significant milestones were reached. Repair of the 100th Minuteman III and the 5,000th Minuteman II were completed.


40 Years Ago - November 1966
Wally Horton Makes $5.8 Million Savings. A cost reduction item submitted by Wally Horton, netted the Air Force a savings of $5.8 million. This was one of the largest savings realized from any cost reduction item submitted by a NAFS employee. Horton's cost reduction item modified the existing Versatile Automatic Test equipment from the MMI configuration to a MMII configuration.






---
Previous Issues