<! PHOTO TABLE>
<! EDIT TITLE FOR PHOTO> MLB Commissioner at NAFS.
<! EDIT PHOTO NAME - BE SURE TO LOAD A 640X480 PHOTO TO THE HISTORY SUBDIRECTORY>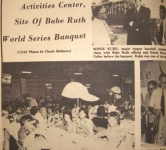 <! EDIT CAPTION> The above photo is from August 1978 On Target.
<! EDIT NAME OF MONTH>
August 2008
It's been 15 years ago that Newark AFB learned of its pending closure, 43 years since the base's newspaper, On Target, was first published, and over 45 years since the establishment of a guidance and metrology operation in Heath. From a complete collection of On Target newspapers and other archives, the Port Authority's Bill Wright creates a month-by-month look at The Base through the years.
<! EDIT THIS ENTIRE SECTION FOR EACH MONTH> One Year Ago - August 2007
BAE Now Atlantic Inertial Systems. With completion of a purchase by J.F. Lehman and Company, BAE Systems-Heath is now Atlantic Inertial Systems. Entrance and building signage as well as website information were changed to reflect the official name change.


5 Years Ago - August 2003
Aug 2003 The Lights Were Always On At COATC. Blackouts on August 14, 2003 affected 50 million people within a day's drive of Heath, including Cleveland and New York City, but never caused a flicker here at COATC. Central Ohio's reputation for reliable electric service was held very much intact. In fact, a December ice storm which impacted much of Central Ohio also failed to tackle the electric service at The Base.


15 Years Ago - August 1993
Aug 1993 ESGN passes 500 unit milestone. The ESGN (Electrically Suspended Gyro Navigator) workload began here in 1983. The complicated system took 21 days to do one test session and required personnel here on site to have to go to training in California. The system is used on submarines for navigation.


20 Years Ago - August 1988
Deputy to AGMC Commander to Change. Anthony Skufca, Deputy to the AGMC commander, left here for a key position at Ogden ALC, Hill AFB Utah. He would become deputy systems program manager for ICBM's, and be responsible for all ICBM systems in the Air Force. Taking his place here at AGMC was Fay Hoskins, who was the highest ranking civilian at AGMC.


25 Years Ago - August 1983
NAFS Firefighters Aid at Owens-Corning. The NAFS fire department played a crucial role in the fight against the chemical fire that threatened the Owens-Corning Fiberglass plant in Newark. NAFS firemen Philip Winland and Harvey Keyes responded to a call for help from the Newark Fire department. Assistance was needed from NAFS because their truck was equipped with an alcohol-based foam which was called for in this type of chemical spill. Avoiding flying debris from the explosion, they were able to put the truck into action and with the help of Newark firefighters in applying the foam, the fire was soon brought under control.


30 Years Ago - August 1978
Activities Center Holds Babe Ruth World Series Banquet. Bowie Kuhn, and Hall of Famer Lefty Gomez were guest speakers at the event attended by over 1,000 players, parents, Babe Ruth Officials, and sponsors.


35 Years Ago - August 1973
Retiring Again. A farewell gift from AGMC was presented by Col. Neville to Wally Horton on the occasion of his "second" retirement. Horton, longtime technical director and top civilian executive of AGMC, officially retired in 1971. When his successor, Fredrich Guenthner, retired in 1972, Horton was recalled to duty to serve in his old position.

Also this month 1973, construction began on the Activities Center, now the Heath Rec. and Fitness Center.


40 Years Ago - August 1968
Col. Morris Burkhart, NAFS commander, accepted the Air Force Outstanding Unit Award from AFLC commander Gen. Jack Merrell at the Commander's Conference. The award honored all 2802d military and civilian personnel for "exceptionally meritorious service" in support of Minuteman II.


45 Years Ago - August 1963
Colonel Lawton gets top AFA executive award. Col. Lawton was winner of the annual Air Force Association Logistics Executive Management Award.

Also this month 1963 Col. James Foxx was named deputy commander of Newark Air Force Station.






---
Previous Issues