<! PHOTO TABLE>
<! EDIT TITLE FOR PHOTO> New Test Station Installed
<! EDIT PHOTO NAME - BE SURE TO LOAD A 640X480 PHOTO TO THE HISTORY SUBDIRECTORY>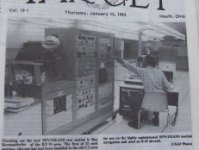 <! EDIT CAPTION> The above photo is from January 1983 of the new B-52 test station.
<! EDIT NAME OF MONTH>
January 2008
It's been 15 years ago that Newark AFB learned of its pending closure, 43 years since the base's newspaper, On Target, was first published, and over 45 years since the establishment of a guidance and metrology operation in Heath. From a complete collection of On Target newspapers and other archives, the Port Authority's Bill Wright creates a month-by-month look at The Base through the years.
<! EDIT THIS ENTIRE SECTION FOR EACH MONTH> One Year Ago - January 2007
Long-Term Lease Signed with Rec Center. A 10-year lease with the City of Heath for the Recreation and Fitness Center was signed by the Port Authority and the City. It's hoped that the long-term lease opens the door for Heath to pursue grant funding for capital improvements to the Rec Center.


5 Years Ago - January 2003
COATC Boasts Presence of Six of Top Twenty DoD Contractors. The list of top 100 Department of Defense contractors, recently published by DoD, includes several COATC tenants. The rankings are based on dollar volume of prime contracts. The top four contractors all have a presence at COATC with fully six of the top 20 represented. The listing solidifies COATC's status as one of Ohio's top five largest concentrations of the aerospace and defense industry. The rankings: Lockheed Martin #1, The Boeing Company #2, Northrop Grumman #3 Raytheon #4, Honeywell #15, BAE SYSTEMS #16.


20 Years Ago - January 1988
AGMC wins Facility Excellence Award. The winners of the Commander's Annual Facility Excellence Awards were announced at AFLC headquarters and Newark AFB was on that list. Number one in the small unit competition was the Aerospace Guidance and Metrology Center. According to the colonel, Newark got an overall facelift in every area of the work environment. Efforts included building a new Pass and ID building and exterior improvements such as the new F-4 static display and volunteer maintained parking islands.


25 Years Ago - January 1983
First test station installed for new B-52 inertial system. SPN/GEANS the acronym stands for Standard Precision Navigator/- Gimbaled Electrically Suspended Gyro Aircraft Navigation System. The latest thing in inertial navigation the systems were installed on B-52 bombers and AGMC was assigned depot maintenance responsibility for these extremely accurate navigation systems.


30 Years Ago - January 1978
The Blizzard of 78' has lived in Ohio memories for years, but none more vividly than those of Newark AFS families. NAFS managers started stirring shortly after 4AM when it became apparent that weather conditions had taken a drastic turn and that people would have difficulties reporting to work. The announcement was made for first shift workers to report two hours late. When the sun came up revealing the magnitude of the disaster, first shift was cancelled. Later operations for the next three days were cancelled. 350 people were safely transported to shelter in the club and cafeteria. The storm came in on a Thursday and by Friday at noon only 100 of the 350 people here had ventured home. By Friday evening only 40 remained at NAFS. During the storm, there were many widespread power outages, but power at NAFS remained on.


35 Years Ago - January 1973
New head of Metrology. Col. Chester Czepyha assumed duties as AGMC's new director of Metrology. The colonel came here from L.G. Hanscom Field, Bedford Mass., where he was previously assigned as chief of engineering for Tactical Air Control Systems in AFSC's electronic systems division.


40 Years Ago - January 1968
MMII milestone. Production of the 500th Minuteman II system was completed on Jan.5th, 1968 a little more than a year from the time the first system was received for test and repair.






---
Previous Issues