<! PHOTO TABLE>
<! EDIT TITLE FOR PHOTO> What's Shaking the Ground?
<! EDIT PHOTO NAME - BE SURE TO LOAD A 640X480 PHOTO TO THE HISTORY SUBDIRECTORY>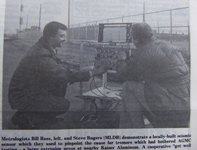 <! EDIT CAPTION> The above photo is from June 1983 On Target.
<! EDIT NAME OF MONTH>
June 2008
It's been 15 years ago that Newark AFB learned of its pending closure, 43 years since the base's newspaper, On Target, was first published, and over 45 years since the establishment of a guidance and metrology operation in Heath. From a complete collection of On Target newspapers and other archives, the Port Authority's Bill Wright creates a month-by-month look at The Base through the years.
<! EDIT THIS ENTIRE SECTION FOR EACH MONTH> One Year Ago - June 2007
Mayors @The Base. The Base had them coming and going on June 1. Heath's new Mayor, Richard Waugh, attended an All-Tenants Management Meeting as his first official event as Mayor on his first day as Mayor. Then, outgoing Mayor Dan Dupps was honored at a farewell reception on the patio that evening.


5 Years Ago - June 2003
Port Authority On-Line Auction Underway. The Port Authority, which often has excess property for sale, is testing the use of an on-line auction for sale of property. A 1992 Chevy pick-up truck is the first item on-line for sale. This system remains as the primary way for disposal of excess property. In fact, the last on-site auction was November 2002.


10 Years Ago - June 1998
A survey mailed out to Heath residents showed tangible support for leasing the fitness center from the Heath-Newark-Licking County Port Authority. The City of Heath has leased the facility since 1998 and has a current membership of 1,962 enrollees.


15 Years Ago - June 1993
BRAC: Close Newark. On the morning of June 25th it was announced by the Base Realignment and Closure Commission that Newark Air Force Base had been slated for closure. Colonel Renaud praised the local communities for supporting the base. In particular he praised Wally Horton for his efforts to convince the commission to retain AGMC.


20 Years Ago - June 1988
Radon tests reveal no hazard on base. Testing of Newark AFB buildings for the presence of radon gas was completed. No significant amounts of radon were detected, according to Greg Harvey, base bioenvironmental engineer. The testing was conducted over a three month period. All tests showed radon levels significantly below 4 pico curies per liter.


25 Years Ago - June 1983
Metrologists Become Detectives; Pinpoint Seismic Disturbances. Two AGMC metrologists have been credited with using locally-built seismic sensor to pinpoint a 6600 ton press at Kaiser Aluminum as the cause of seismic disturbances which had been intermittently adversely affecting testing at AGMC for several years. Kaiser officials confirmed the findings and cooperated in a common effort to correct the situation.


30 Years Ago - June 1978
AFLC gives go-ahead to AGMC Reserve Unit. Gen. Bryce Poe II, AFLC commander, approved the establishment of an Air Force Reserve unit for AGMC. The mission of the unit was to give support to aircraft repair in the event of a wartime surge of additional workload requirements.


35 Years Ago - June 1973
Col. Ambrecht retires, Awarded Legion of Merit. AGMC's first director of maintenance, Col. John Ambrecht, retired, closing a military career spanning nearly 35 years. During retirement ceremonies Col. Ambrecht was presented the Legion of Merit, citing him for "superior leadership and technical guidance vital to the outstanding support of national defense effort and exceptional technical expertise and managerial abilities which greatly enhanced maintenance performed on missile inertial systems and aircraft inertial platforms through the innovative introduction of numerous production processes and managerial concepts".


40 Years Ago - June 1968
Col. Little Reassigned to AFLC, New Commander Named. Col. Edwin Little, Newark AFS commander was appointed as inspector general of Air Force Logistics Command. Col. Little was expected to become a brigadier general in the summer. His nomination for the grade was confirmed by the Senate earlier in the year. It was also announced that Col. Morris Burkhart would replace Col. Little at Newark AFS.


45 Years Ago - June 1963
The Titan inertial guidance system was first produced at Newark AFS.






---
Previous Issues