<! PHOTO TABLE>
<! EDIT TITLE FOR PHOTO> Too much Weight
<! EDIT PHOTO NAME - BE SURE TO LOAD A 640X480 PHOTO TO THE HISTORY SUBDIRECTORY>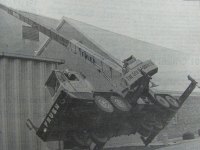 <! EDIT CAPTION> The above photo is from May 1988 On Target.
<! EDIT NAME OF MONTH>
May 2008
It's been 15 years ago that Newark AFB learned of its pending closure, 43 years since the base's newspaper, On Target, was first published, and over 45 years since the establishment of a guidance and metrology operation in Heath. From a complete collection of On Target newspapers and other archives, the Port Authority's Bill Wright creates a month-by-month look at The Base through the years.
<! EDIT THIS ENTIRE SECTION FOR EACH MONTH> One Year Ago - May 2007
Voinovich Calls COATC "A Gem" U.S. Senator George Voinovich, during a tour of The Base to get an update on the successes and challenges since Privatization-in-Place, had high praise for the efforts of the workforce and employers here. Voinovich toured key new work areas, including the AWACS-ESM area relocated from Texas in 2006 and the circuit card repair area upgraded in 2000. The visit was his fourth since the Base closure announcement in 1993 and was at the invitation of the Port Authority as part of its ongoing caucus-building strategy.


5 Years Ago - May 2003
Economic Development Conference a Success. Participants in Licking County Perspectives, a first-ever economic development conference for community leaders, was a success. Over 150 people registered for the conference, most of whom also boarded a passenger train for a trip on the Columbus and Ohio River Rail line. The event was a cooperative effort of the Port Authority, Licking County Planning Commission, and Newark & Licking County Chamber of Commerce. The sponsors included the Ohio Central Railroad, The Boeing Company, Kaiser Aluminum, Mid-Ohio Development, and Southgate Corporation.


15 Years Ago - May 1993
Senator John Glenn and Representative Douglas Applegate visit NAFB ahead of the contractors that were invited to tour the base with the possibility that the Base would be privatized. Other alternatives being considered were: sale of the Base to a contractor, sale or transfer of the Base to the State of Ohio, Operating the Base as a Government Owned Facility, or sale of the Base to a company formed by a group of Base employees.


20 Years Ago - May 1988
A crane belonging to the Geo. P. Frueh Co. of Zanesville, was lifting a work platform when the crane tipped on its side. No one was injured. Employees in Bldg. 2 and those in a high risk area in Bldg. 4 were evacuated as a safety precaution.


25 Years Ago - May 1983
Colonel Lange retires, Colonel Davidson Assumes Command. Maj. General Charles McCausland, AFLC Chief of Staff presided as Col. Lange relinquished command of AGMC to Col. Davidson in ceremonies at the activities center.


30 Years Ago - May 1978
NAFS Families Visit Work Areas. On this Armed Forces Day, there was no open house for the public. Instead, NAFS military and civilian members were offered a rare opportunity to take their families into their own work areas. Calling it Family Day, more areas were open to employee's families than ever before. Most NAFS personnel were able to take family members into many areas that were previously closed at open house events. Among the new areas were the underground Metrology labs, most Civil Engineering shop areas and Minuteman III.


35 Years Ago - May 1973
A Day of Remembrance. A formal ceremony was held at the flag pole of Building 2 to commemorate the Day of Recognition and Remembrance observed throughout the Air Force for all personnel who served in Southeast Asia.


40 Years Ago - May 1968
The first LN-7 platform produced at NAFS was given a send-off in Shops Titan/F-4C/F-111 section where it was repaired. The LN-7 inertial navigation system was part of the RC-135C aircraft.


45 Years Ago - March 1963
First public open house at NAFS. Central Ohioans had an opportunity to tour the Air Force's inertial guidance and calibration facility when the NAFS held its open house in connection with Armed Force's Day. The ten-acre main building was the site of the open house. A tour route was set up through the building to encompass the super-clean inertial guidance repair shops, various calibration exhibits, communications and data processing functions and a number of special displays including student science exhibits from schools in Licking County. Approximately 10,000 people attended the event.






---
Previous Issues