<! PHOTO TABLE>
<! EDIT TITLE FOR PHOTO> Newark Air Force Base on Closure List
<! EDIT PHOTO NAME - BE SURE TO LOAD A 640X480 PHOTO TO THE HISTORY SUBDIRECTORY>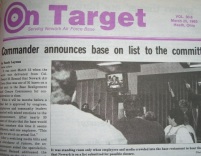 <! EDIT CAPTION> The above photo is from March 1993 On Target.
<! EDIT NAME OF MONTH>
March 2008
It's been 15 years ago that Newark AFB learned of its pending closure, 43 years since the base's newspaper, On Target, was first published, and over 45 years since the establishment of a guidance and metrology operation in Heath. From a complete collection of On Target newspapers and other archives, the Port Authority's Bill Wright creates a month-by-month look at The Base through the years.
<! EDIT THIS ENTIRE SECTION FOR EACH MONTH> One Year Ago - March 2007
D.C. Fly-In a Success. The Port Authority led a seven-person delegation of public and private officials to Washington, DC to meet with our congressional delegation, thank them for their support, make them aware of the successes and challenges at The Base, and update them on the status of our major defense-related workloads.


5 Years Ago - March 2003
Building 4 Changes for First-Ever Manufacturing Workload. Plans for changes to Building 4 were approved that, it would later be learned, were to accommodate the GRP program. The GRP became The Base's first-ever manufacturing program for the Air Force, beginning a trend that continues through today.


10 Years Ago - March 1998
A State development agency gave $25,000 to Port Authority for a study on how to attract businesses and jobs to the COATC campus. The Port Authority was awarded the grant from the Ohio Department of Development's Defense Conversion Assistance Program, which provided aid to communities impacted by a loss of federal military jobs.


15 Years Ago - March 1993
Commander announces base on list to the committee. It was noon March 12 when the word was delivered from Col. Joseph Renaud that Newark Air Force Base was one of 31 bases on a list sent to the Base Realignment and Closure Commission for consideration to close.


20 Years Ago - March 1988
N-16, DMINS, ESGN win award. The N-16, Dual Miniature Inertial Navigation System and Electrically Suspended Gyro Navigator System area earned the Pacer Impact Award. The nomination explains how the area met all projected workload. The average efficiency for the area was more than 100 percent.


25 Years Ago - March 1983
Col. John Davidson named the next commander. Col. Davidson took command from Col. Lange. Col. Davidson was director of Plans and Programs at Sacramento ALC, McClellan AFB, California.


30 Years Ago - March 1978
Evaluator completes 100 Labs, most ever. Not only had MSgt. Gerald Erickson achieved a major milestone in his career as a precision measurement equipment lab (PMEL) evaluator, he is the first evaluator to reach the milestone. He evaluated 100 labs. The 100th was at Tinker AFB, Okla. No other evaluator had ever reached that mark. For his milestone and record, Metrology presented him a certificate of recognition.


35 Years Ago - March 1973
AGMC signs support agreement for Navy submarine system. Formal acceptance of the Depot Maintenance Interservice Support Agreement for the Navy's Dual Miniature Inertial Navigation System (DMINS) was held March 13 when AGMC Commander Col. A.R. Neville JR. signed the official document. Signing the agreement was a significant event in AGMC history. It was the first time the center had negotiated directly with another Department of Defense activity for depot maintenance support of an inertial system.


40 Years Ago - March 1968
Col. James M. Foxx, vice commander of Newark Air Force Station since August 1963, closed out his 26-year military career with a retirement ceremony in the NCO club.


45 Years Ago - March 1963
MAAMA's 2802nd Inertial Guidance and Calibration Group at Newark Air Force Station was officially assigned the specialized repair activity (SRA) for the F4C "Phantom" aircraft inertial navigational system.






---
Previous Issues