<! PHOTO TABLE>
<! EDIT TITLE FOR PHOTO> Bubb to join NAFS Staff
<! EDIT PHOTO NAME - BE SURE TO LOAD A 640X480 PHOTO TO THE HISTORY SUBDIRECTORY>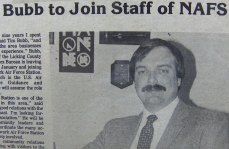 <! EDIT CAPTION> The above photo is from February 1983 Licking Countian.
<! EDIT NAME OF MONTH>
February 2008
It's been 15 years ago that Newark AFB learned of its pending closure, 43 years since the base's newspaper, On Target, was first published, and over 45 years since the establishment of a guidance and metrology operation in Heath. From a complete collection of On Target newspapers and other archives, the Port Authority's Bill Wright creates a month-by-month look at The Base through the years.
<! EDIT THIS ENTIRE SECTION FOR EACH MONTH> One Year Ago - February 2007
Base TV Debuts. Something new came to OnTheBase.com. Base TV was unveiled as an online resource for Base personnel. To the background music of VideoKilled the Radio Star, a preview of Base TV outlines the new video clip system. Base TV will feature project previews, VIP interviews, inside information, and coverage of COATC events.


5 Years Ago - February 2003
COATC Brags Six of Top Twenty Defense Contractors. The front page of the COATC.com web site brags about companies here at the Base who, together, make COATC among the top five largest concentrations of the aerospace and defense industry in Ohio. Lockheed Martin, then a subcontractor with Bionetics, Boeing, BAE Systems, Northrup Grumman, Honeywell, and Raytheon make up the six contractors.


15 Years Ago - February 1993
Col. Hogan new Metrology head. After serving for years in a variety of aircraft maintenance and logistics positions, Col. William Hogan arrived at Newark AFB to serve as the director in the Directorate of Metrology.


20 Years Ago - February 1988
Environmental monitor system links data. What once took a technician two or three days could be done in a matter of seconds thanks to the EMS, Environmental Monitoring System. The EMS gave the clean room officer the capability to monitor approximately 150,000 square feet of environmentally controlled area or some 300 sample points within the Directorate of Maintenance, from a single location. The system was believed to be the first in the Air Force used to monitor such an expansive area. The EMS would assist AGMC's aggressive proactive efforts to enhance the quality of it clean rooms and ensure the integrity of the processes and products.


25 Years Ago - February 1983
Tim Bubb joins staff of NAFS. After nine years at the Chamber, Tim Bubb left the Licking County Convention and Visitors Bureau behind to join the staff at NAFS as the Protocol Specialist. He worked with community leaders and agencies to help coordinate the many activities in which NAFS personnel were involved. Tim Bubb was elected Licking County Commissioner in 2004 and remains an active link between The Base and the community.


30 Years Ago - February 1978
Missilettes Disband. AGMC Commander Col. Huff received word that the Missilettes dissolved their organization in a letter from Marjorie Enlow, president. "Our memberships have diminished to the point that there are just not enough people to execute our projects at the high standards of which the Missilettes have always been proud she wrote." The group was founded in 1963 for wives of employees and women employees. They raised funds for several Licking county organizations during their existence. The club's annual Mistletoe Ball had become a tradition at NAFS and in Licking County.


35 Years Ago - February 1973
2803d Air Base group organized for operation of Newark AFS. Newark AFS began being operated by the 2803d Air Base Group, an organization encompassing all station support activities including the comptroller and the civilian personnel office. Lt. Col. Alfred Houston accepted command and the title of Base Commander.


40 Years Ago - February 1968
Col. Little Nominated for General rank. Col. Edwin Little, Newark AFS commander, was notified by Air Force Chief of Staff that he was nominated for appointment to the grade of brigadier general.


45 Years Ago - February 1963
Air Station Women to be named Missilettes. Women whose husbands are associated with the Newark AFS incorporated a social group. They filed papers with the Ohio secretary of state to call their organization the Missilettes. Mrs. Lawton and Mrs. Horton were named as honorary members of the governing committee.






---
Previous Issues