UPDATED March 7, 2023
North Parking Lot Repaving


OUT FOR BID
This project involves the resurfacing of the north parking lots at the COATC Base campus on the west side of the Boeing Building. This project will include the adjustment of asphalt at sidewalk approach ramps, milling, leveling of paved surfaces, repairs, the addition of a new 1-1/2" surface coarse of asphalt and the restriping of the parking spaces once resurfacing is complete.
Utility Extension


UNDERWAY
This project involves the extension of the sewer line to Behr Paint's new facility. Behr contractor Kendrick is completing the connection of the line.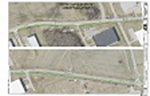 Walking Path Extension


DESIGN PHASE
This project involves extending the campus walking path south along the east side of James Parkway for .7 miles. This will open the walking path to the South Campus customers.