<! PHOTO TABLE>
<! EDIT TITLE FOR PHOTO> Irving-Wick Dr Named.
<! EDIT PHOTO NAME - BE SURE TO LOAD A 640X480 PHOTO TO THE HISTORY SUBDIRECTORY>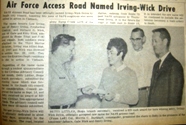 <! EDIT CAPTION> The above photo is from September 1968 On Target.
<! EDIT NAME OF MONTH>
September 2008
It's been 15 years ago that Newark AFB learned of its pending closure, 43 years since the base's newspaper, On Target, was first published, and over 45 years since the establishment of a guidance and metrology operation in Heath. From a complete collection of On Target newspapers and other archives, the Port Authority's Bill Wright creates a month-by-month look at The Base through the years.
<! EDIT THIS ENTIRE SECTION FOR EACH MONTH> One Year Ago - September 2007
Walking Path Takes Leap Forward. The Port Authority began the first phase of a walking path on the south side of The Base. It's hoped that this path will not only fulfill a promise for a delineated path made to Base personnel but also, some day, connect to Licking County's extensive network. Expectations of that happening went up with word that Heath was to get a $400,000 state grant to build the next stage of its network and reach The Base. Commuting to work via foot and pedal power may get easier. The path was substantially complete in December but was delayed for opening until spring 2008.


5 Years Ago - September 2003
Fire Department Changes Made. Prompted by a change in customer requirements, Boeing began the removal of the on-Base fire station. A lease amendment was made that removed Building 56 as a fire station and moved many all-campus fire protection services to inside Building 4 only. In 2004, Building 56 would be converted to a R&D and office facility for Atlantic Inertial Systems.


15 Years Ago - September 1993
Transition Chief Named. Calling it a step in a process and a positive step for Newark Air Force Base and the surrounding community, Maj. David Cook was designated by the Air Force as the Transition Coordinator for the NAFB. The designation of a transition coordinator is in keeping with Air Force policy that emphasized what the community wants to do in a closure situation. Maj. Cook went on to become the second Executive Director of the Heath Newark Licking County Port Authority.


20 Years Ago - September 1988
Water, Water everywhere. Anyone that was near the chillers in bldg. 4 on September 3rd, found gallons of water rushing into the hallways and various rooms. When Civil Engineering was bringing the plant back up after a scheduled shut down, a vibration eliminator broke, spewing more than 1,500 gallons of water on the floor. At one time the depth of the water reached 3 inches. The valve was shut off within one minute, but that still wasn't quick enough to stop the water which spread from the hallways into the TO library, the Methods Lab and into Test Equipment area.


25 Years Ago - September 1983
Dugan New Deputy of Metrology. Lt. Col. Lawrence M. Dugan was assigned to AGMC as Deputy Director of Metrology from the Pentagon where he was Chief of the Logistics Readiness Center and Air Force Programs in south west Asia.


30 Years Ago - September 1978
Girl's fall halts NAFS family picnic. Betsy Shepard, a member of Explorer Post 27 emergency service unit, was seriously injured during a rappelling demonstration from the water tower during the NAFS family picnic. Shepard, started lowering herself from the tower's platform at 139 feet but was unable to control the rope to slow her decent. She was rushed to LMH where she underwent surgery for multiple fractures of the feet and legs. The girl was a veteran of several hundred such rope descents and the Explorer group did not find any defects in her equipment. The accident happened at 4:30 PM and called a halt to the Family picnic which was to run until 8PM.


35 Years Ago - September 1973
AGMC Hosts All-Command PMEL Conference. The Air Force All Major Command Precision Measurement Equipment Laboratory conference was hosted here with 50 representatives from Headquarters USAF, 15 major commands and other supporting activities attending the three-day meeting. AGMC was selected as the conference site because of its centralized location and the availability of personnel with knowledge of the management of the Air Force Metrology and Calibration Program.


40 Years Ago - September 1968
Air Force Road named Irving-Wick Drive. NAFS access road was officially named Irving-Wick Drive by Heath city council, honoring two sons of NAFS employees who were killed in action in Vietnam. The name honors Lee Irving and Richard Wick. Both soldiers were attached to the Third Marine Division. Irving was killed Sept. 10, 1967 and Wick drowned in action Nov. 22, 1965. They were the first two Heath residents to die in action in Vietnam. Suggestion of the name came through a contest sponsored here. Betty Littler submitted the winning name. Betty received a $25 award for the name.


45 Years Ago - September 1963
Install Complex Instruments for Missile Testing. The Versatile Automatic Testing Equipment (VATE) was designed to check any inertial guidance system. One spokesman for the Air Force said "VATE does for the missile industry what the tube tester did for the radio industry." The Air Force called it the "most significant engineering achievement in the short history of inertial guidance test application."






---
Previous Issues