<! PHOTO TABLE>
<! EDIT TITLE FOR PHOTO> Float gets first prize.
<! EDIT PHOTO NAME - BE SURE TO LOAD A 640X480 PHOTO TO THE HISTORY SUBDIRECTORY>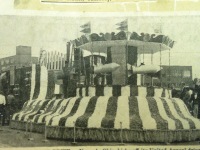 <! EDIT CAPTION> The above photo is from October 1963 Olmsted Orbiter.
<! EDIT NAME OF MONTH>
October 2008
It's been 15 years ago that Newark AFB learned of its pending closure, 43 years since the base's newspaper, On Target, was first published, and over 45 years since the establishment of a guidance and metrology operation in Heath. From a complete collection of On Target newspapers and other archives, the Port Authority's Bill Wright creates a month-by-month look at The Base through the years.
<! EDIT THIS ENTIRE SECTION FOR EACH MONTH> One Year Ago - October 2007
Boeing Virtual Manufacturing Center Now Reality. On the heels of approval of a state grant, Boeing-Heath announced its plans to establish the Virtual Manufacturing Center, an interactive, real-time visualization system. The virtual reality tool is seen as a quantum leap into a much brighter future for the COATC. Combined, the state and Port Authority provided $500,000 in grant funds for equipment in the VMC.


5 Years Ago - October 2003
Bionetics to Host NCSL International Workshop. Bionetics Corporation hosted a regional meeting of the National Conference of Standards Laboratories International on October 16. This event was the second such event at the COATC Conference Center that Bionetics has hosted this year. NCSL has had an affiliation with The Base dating back to the early years of both organizations.


15 Years Ago - October 1993
Crum speaks at Abilities luncheon. Jimmy Crum, sportscaster for Channel 4, entertained the audience with anecdotes about Ohio State University football and his efforts to aid handicapped children. Crum stated he did about 200 speaking engagements a year for disabled persons.


20 Years Ago - October 1988
Base exchange opens new facility here. Base Exchange opened a new facility near the east side main entrance gate. Shoppers could visit the BX 10am -5pm Tuesday thru Friday and 10am to 2 pm on Saturday. In 2000 this building was reconfigured to become part of the Port Authority offices.


25 Years Ago - October 1983
New security head shatters 20 year NAFS tradition. When the new police chief arrived at NAFS on a motorcycle few heads turned until they realized the driver was Captain Julia Thompson. Her arrival broke two 20 year traditions here: she was the first military officer and first woman to head NAFS security force.


30 Years Ago - October 1978
AGMC Reservists take oath. The first members of AGMC's new Air Force Reserve unit were sworn in not once but twice by Maj. Gen. James Isaacks, Jr. The reason for the double ceremony was that a Columbus television station crew covering the event arrived as the last words of the first oath were being said. The mission of the new Reserve unit was to augment the AGMC work force in the event of emergency of wartime surge in requirements for inertial navigation and guidance repair. Approximately 20 were sworn in at the ceremony.


35 Years Ago - October 1973
The first 2171AB displacement gyro was produced in Maintenance. This workload was transferred from Hill AFB, Utah and was the largest of the displacement gyro workloads that AGMC assumed. The gyro was used in all F-4 Phantom aircraft.


40 Years Ago - October 1968
Vice Commander Assumes Duties. Col. Jack Massie, a command pilot and veteran of WWII assumed duty here as vice commander. He was previously chief of maintenance for Detachment 1, 834th Air Division at Tan Son Nhut AB, Vietnam.


45 Years Ago - October 1963
Newark's First Prize. Newark Ohio kicked off its United Appeal drive with a huge parade highlighted by dozens of floats. NAFS's entry was a 60 foot platform featuring a circus band wagon, an old-time calliope rigged to issue steam in rhythm to recorded music, and a carousel. A parade troupe of 60 included a unicyclist, jugglers, clowns, and a full array of circus characters. The float won first prize in the category of industries with 500 or more employees.






---
Previous Issues