<! PHOTO TABLE>
<! EDIT TITLE FOR PHOTO> Col. Neville on TV.
<! EDIT PHOTO NAME - BE SURE TO LOAD A 640X480 PHOTO TO THE HISTORY SUBDIRECTORY>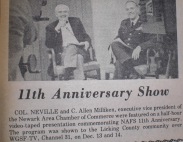 <! EDIT CAPTION> The above photo is from December 1973 On Target.
<! EDIT NAME OF MONTH>
December 2008
It's been 15 years ago that Newark AFB learned of its pending closure, 43 years since the base's newspaper, On Target, was first published, and over 45 years since the establishment of a guidance and metrology operation in Heath. From a complete collection of On Target newspapers and other archives, the Port Authority's Bill Wright creates a month-by-month look at The Base through the years.
<! EDIT THIS ENTIRE SECTION FOR EACH MONTH> One Year Ago - December 2007
Land Acquisition Completed, Roadway Design Work Begins. The Port Authority's purchase of 3.44 acres along Irving Wick Drive West caused the third stage of roadway improvements to connect James Parkway and Irving Wick Drive to enter design phase. The project is expected to begin in early 2009 and includes a new bridge and reconfigured entrance and parking lot on the east side of The Base.


5 Years Ago - December 2003
Port Authority Board Honors Wally Horton. Retiring Board member Wally Horton was honored by the Port Authority Board of Directors Dec. 10. Chairman Steve Layman presented an engraved photo plaque and officials from the offices of U.S. Senators DeWine and Voinovich, Congressmen Ney and Tiberi, Governor Taft, State Senator Hottinger, and House Speaker Householder also presented letters or proclamations with regards.


15 Years Ago - December 1993
Top suggester of the year recognized. The AGMC's 1993 suggester of the year was Thomas Priest. Tom worked in the Maintenance Clock Shop. He was the driving force behind six suggestions adopted in 1993 which resulted in savings for the Air Force of $100, 805.


20 Years Ago - December 1988
Lt. Col. Robert Howe accepted the 2803 Air Base Flag signifying the start of his position as commander. Presenting the flag was Col. Daniel Flournoy, AGMC Commander. Col. Howe took over from Col. Thomas E. Ockunzzi. Col. Ockunzzi left his position here to return to his first love, flying. He went to Norton AFB, California so he could pilot C-141s with the 15th Military Airlift Squadron.


25 Years Ago - December 1983
Numerous construction Projects finish up 1983. Gene Wyrick, contract programmer in Civil Engineering, stated that more than $2.1 million had been spent on projects around the Base. One of the most obvious finishing up here at the end of the year was the Base restaurant remodeling. Other projects just underway included, repairs to Post 2 ramps, construction of outdoor break areas, roof repair in the Minuteman area and construction on the roads and grounds storage facility. History repeats itself as more than $12 million in on-Base work is underway this time of year, including work in the Post 2 ramps, patio, Minuteman area, and roads and grounds storage facilities.


30 Years Ago - December 1978
Minuteman ICBM Production Ends. Production of the Minuteman ICBM missile, mainstay of the nation's land-based ICBM force ended. The last missile was completed by the Boeing Company, which had received the Minuteman assembly, test and installation contract in October 1958. The first production missile was ready for use just six months before the Cuban missile crisis. Approximately 2,400 missiles were built. The Minuteman was replaced with the Minuteman II and the Minuteman III.


35 Years Ago - December 1973
Early Base TV? NAFS Anniversary film on channel 31. Col. A. R. Neville JR, AGMC Commander and Allen Milliken, executive vice-president of the Newark Area Chamber of Commerce appeared on WGSF-TV in a special presentation commemorating Newark AFS's 11th anniversary. The half- hour presentation included a filmed history of the installation's dedication day Dec. 13, 1962, narrated by AGMC's historian Grover Lee Hardison. The Port Authority has brought TV here to the Base. Interviews with visiting VIP's, coverage of events and important information that you need about projects here on the Base can be found on Base TV. Stay tuned!






---
Previous Issues