<! PHOTO TABLE>
<! EDIT TITLE FOR PHOTO> WATER WATER EVERYWHERE...
<! EDIT PHOTO NAME - BE SURE TO LOAD A 640X480 PHOTO TO THE HISTORY SUBDIRECTORY>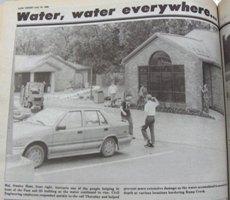 <! EDIT CAPTION> The above is copied from a July 1990 edition of On Target.
<! EDIT NAME OF MONTH>
July 2010
It's been more than 17 years ago that Newark AFB learned of its pending closure and more than 45 years since the base's newspaper, On Target, was first published and 48 years since the establishment of guidance and metrology operations in Heath. From a complete collection of On Target newspapers, the Port Authority's Bill Wright created a month-by-month look at The Base through the years.
<! EDIT THIS ENTIRE SECTION FOR EACH MONTH> 1 Years Ago - July 2009
Weather Station, Cams Running Again The first public view of the Port Authority's weather station and cams was more than five years ago. The system started showing its age. A new station was installed drawing weather conditions from the northern edge of the East Parking Lot now. Also, three Weather Cams are uploading images every five minutes to the site from three different points on the campus. These have, since day one, been the most popular onthebase.com features


<! EDIT THIS ENTIRE SECTION FOR EACH MONTH> 5 Years Ago - July 2005
Boeing Renews Lease Through 2010 Saying, "Boeing-Heath is extremely fortunate to have the Port Authority as a landlord," Boeing recently took action to renew its lease with the Port Authority through September 30, 2010. The lease was renewed at current rates, action which shows the success of the Port Authority's cost-reduction and revenue diversification efforts over the years. The lease renewal was a smooth process.


<! EDIT THIS ENTIRE SECTION FOR EACH MONTH> 15 Years Ago - July 1995
BRAC 1995- with the proposed closure for Kelly and McClellan Air Force bases, the national media turned its attention to the Newark Air Force Base and the privatization being done here. Deputy Secretary of Defense John White stated "we have learned over time, specifically after the last BRAC round in terms of what the Air Force is now doing in Newark, Ohio, and in terms of looking at this BRAC round, to think of privatization in place meets a large number of requirements that we have."


20 Years Ago - July 1990
Water damage to The Base! Ramp Creek came out of its banks flooding parking lots, the area around the Base Exchange and Pass and ID, as well as Hess Park. Flooding would return in July of 1997.


25 Years Ago - July 1985
Rep. John Kasich spoke at Newark Air Force Station on July 2nd. Kasich said his main worry was whether the legislation he passes on Capitol Hill is felt here at AGMC and other installations around the country. The luncheon was attended by more than 180 AGMC employees.


30 Years Ago - July 1980
An Energy Award Presentation for AGMC brought history to life as retired General Edwin Rawlings told a large audience of his personal interest in the NAFS installation. He was involved in early decisions in the mid and late forties that created this installation for the Heavy Press Program. With the cancellation of this program the Air Force used the installation for a role in modern weaponry. General Rawlings was AFLC commander from 1951 to 1959.


35 Years Ago - July 1975
Hundreds of civilian employees and members of the community attended the Change of Command when Col. A.R. Neville, Jr. relinquished command of AGMC and Col. William H. Bush became the new commander.


40 Years Ago - July 1970
MM III repair operations were successfully launched here with the arrival and rapid turn-around of the first inertial guidance system from Minot AFB, N.D. The arrival of the first failed system here culminates a four year planning, construction, equipment procurement, and training effort that developed the facility and capability for repair.


Wouldn't It Be Nice? July 1970
Ad for Star Super Duper shows ground beef for 63 cents a pound and a half gallon of ice cream for 59 cents.


45 Years Ago - July 1965
Another important savings was achieved by Newark AFS employees to close out a successful FY-65 Gold Rush program. A claim by production control's system scheduling branch scored a cost avoidance of $145,000 in the Titan II inertial guidance system.






---
Previous Issues