<! PHOTO TABLE>
<! EDIT TITLE FOR PHOTO> On Target Begins
<! EDIT PHOTO NAME - BE SURE TO LOAD A 640X480 PHOTO TO THE HISTORY SUBDIRECTORY>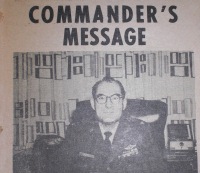 <! EDIT CAPTION> The above photo is from a January 1965 On Target story.
<! EDIT NAME OF MONTH>
January 2010
It's been 17 years ago that Newark AFB learned of its closure, 45 years since the base's newspaper, On Target, was first published, and 48 years since the establishment of guidance and metrology operations in Heath. From a complete collection of On Target newspapers and other archives, the Port Authority's Bill Wright creates a month-by-month look at The Base through the years.
<! EDIT THIS ENTIRE SECTION FOR EACH MONTH> One Year Ago - January 2009
Contaminant removed from former Base. Cleanup of a decades-old contamination at the Base ended, allowing the area to be turned into green space. The Air Force completed the $2 million project by removing 7,500 tons of dirt and adding monitoring wells.


5 Years Ago - January 2005
Congressman Tiberi Tours the Base. Caucus-building is a regular part of the Port Authority's building management strategies. As part of that effort, 12th District Congressman Pat Tiberi took a tour to get better acquainted with the Base and its tenants.


10 Years Ago - January 2000
AFMETCAL on the Move. With the remodeling completed in Building 2, AFMETCAL moved into the Horton Building.


15 Years Ago - January 1995
City councils of Heath and Newark and the Licking County Commissioners met in a rare joint meeting in downtown Newark to discuss forming a Port Authority in order to take ownership of the grounds and equipment of the soon-to-be-closed Newark AFB. The formal signing of a joint agreement to create the Heath-Newark-Licking County Port Authority would occur May 18, 1995.


20 Years Ago - January 1990
Lange new deputy in Directorate of Maintenance. Carle Lange first came to Newark AFB in 1963 and remained here until 1980. He then went to Headquarters Air Force Logistics Command and spent three years as deputy commander at RAF Kemble, England. He returned to Newark AFB for his assignment as Directorate of Maintenance.


25 Years Ago - January 1985
On Target Celebrates 20 years. First issue of On Target for Newark AFS was printed in January 1965.


30 Years Ago - January 1980
Poe "Delighted" with IG Report. Gen. Bryce Poe II, AFLC commander, visited to hear the results of a two-week management effectiveness inspection by the AFLC Inspector General team. The report particularly noted the AGMC energy program which is presently leading the command in energy reductions.


35 Years Ago - January 1975
New Facility. Two new truck doors in the northwest corner of Bldg. 4 replace the old truck well which would accommodate only one truck at a time. The unloading facility increased efficiency and speed in Supply's receiving operation. The docks also have self leveling-ramps and are air sealed.


40 Years Ago - January 1970
First NAFS Commander Retires. Col. Thomas Lawton Jr., first commander of Newark AFS retired from the Air Force at Patrick AFB, Florida. Col. Lawton was appointed commander of Newark AFB in 1961 while the installation was still in the planning stages at Dayton Air Force Depot.


45 Years Ago - January 1965
Commander's Message With the publication of our first issue of "On Target" we are filling one of our most critical needs; that of communication. The need to talk to each other is always present in any organization, but at Newark AFS with its continuous growth, this need becomes vital to the successful teamwork required for effective operations. Only when all members know the signals can a group of people function in full support of a common aim; whether it be putting a ball across the goal line or shipping a repaired guidance system back to SAC. The primary purpose of "On Target" will be to provide these signals to all, to explain the reasons for the play or course of action and to keep you up-to-date on the score at all times. Col. Thomas O. Lawton Jr. Commander.






---
Previous Issues